Twitter Goes to Bat for WikiLeaks, RTs @FBI's Court Order
Regardless of where one's politics may fall on the WikiLeaks prosecution, one thing is becoming abundantly clear as a result: Twitter is emerging as a champion of users' rights.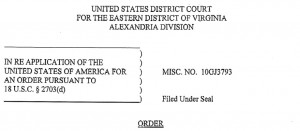 Federal prosecutors investigating the disclosure of classified state documents served Twitter with a court order demanding it turn over information pertaining to several of its users. While there is nothing particularly alarming about the order, 1 the bigger news is that Twitter fought back, contesting the attached gag order that prevented the social networking service from informing its users of its compliance with the otherwise lawful request. 2
Twitter's decision, arguably the first of its kind, gave the targets of the order the time and legal cover necessary to pursue their own challenges in court. What is troubling, however, is that presumably other service providers, such as Google and Facebook, could have received similar requests and silently acquiesced to the government's demands.
While many companies, including Google and Yahoo, have a policy of informing users of such requests when legally permissible, in this case, Twitter's contention of the gag order, and the resulting opportunity to pursue legal action it subsequently afforded its users, was somewhat heroic, at least by internet standards, and is a practice other firms should follow. By no means was Twitter obliged to spend time and money 3 rocking the boat on what appears to be an undoubtedly troublesome, but otherwise somewhat routine request, but they did so anyway, and to their users' benefit. Wired put it best when they noted, "Twitter introduced a new feature last month without telling anyone about it… Twitter beta-tested a spine."
A user's protection from government intrusion should not diminish depending on the medium chosen and even more importantly, should not be dependent on the heroics of a caped internet crusader. This holds especially true when the world's top social media firms are seemingly at opposite ends of the privacy spectrum. While it may be true that it is simply good business sense 4 for service providers to fight to ensure the privacy of its user's data so that potential customers continue to visit the site and use their service, as any former Google Wave user knows, beta features, regardless of how heroic, are not services to be relied on. For progress to continue to march users into the cloud, the ambiguities surrounding a user's digital rights must be resolved through a comprehensive CTRL-F5 of privacy law by knowledgeable lawmakers before we all retreat to pen and paper in the interest of privacy.
Notes:
If you enjoyed this post, you might also enjoy:
Ben Balter is Chief of Staff for Security at GitHub, the world's largest software development platform. Previously, as a Staff Technical Program manager for Enterprise and Compliance, Ben managed GitHub's on-premises and SaaS enterprise offerings, and as the Senior Product Manager overseeing the platform's Trust and Safety efforts, Ben shipped more than 500 features in support of community management, privacy, compliance, content moderation, product security, platform health, and open source workflows to ensure the GitHub community and platform remained safe, secure, and welcoming for all software developers. Before joining GitHub's Product team, Ben served as GitHub's Government Evangelist, leading the efforts to encourage more than 2,000 government organizations across 75 countries to adopt open source philosophies for code, data, and policy development. More about the author →