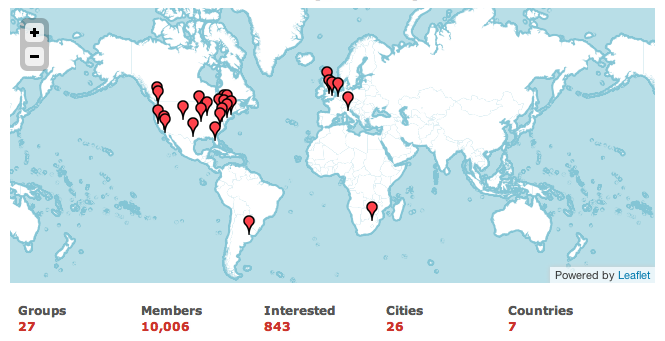 Hacks/Hackers — the international grassroots journalism organization dedicated to creating a network of journalists and technologists to rethink the future of news and information — welcomed its 10,000th member today. Just two and half years after our start as a Meetup group in the Bay Area, we're now in seven countries, across 26 cities, and have regular events on four continents.
People have found jobs, co-founders for startups, acquirers for their company, learned new skills, hacked out projects, shown off their work and so much more at Hacks/Hackers events […and w]ith 10,000 members, we're only getting started.
Want to get involved? Find a chapter near you, or if none exist, grab some friends and start your own.
View the story "Hacks/Hackers reaches 10k members: Tell us your story" on Storify
Named one of the top 25 most influential people in government and technology and Fed 50's Disruptor of the Year, described by the US Chief Technology Officer as one of "the baddest of the badass innovators," and winner of the Open Source People's Choice Award, Ben Balter is a Product Manager manager at GitHub, the world's largest software development network, where he oversees a team of product managers responsible for the company's business-to-business and community and safety products. Previously, Ben served as GitHub's Government Evangelist, leading the efforts to encourage government at all levels to adopt open source philosophies for code, for data, and for policy development. More about the author →